The era of streaming has one common theme going on for a long, long time – reviving a series that used to be popular before. And, after watching the Animaniacs characters live again, I do not want to be the one to complain about it.
I mean, thanks to Hulu, I have relived my childhood again with the memories of Dot, Yakko, and – my favorite – Wakko. But I think that's just my nostalgia talking, not me.
So, in this article, I am going to share an unbiased review of the Animaniacs cartoon and discuss everything you must know about the series. Let's get going then, shall we?
Animaniacs – An Overview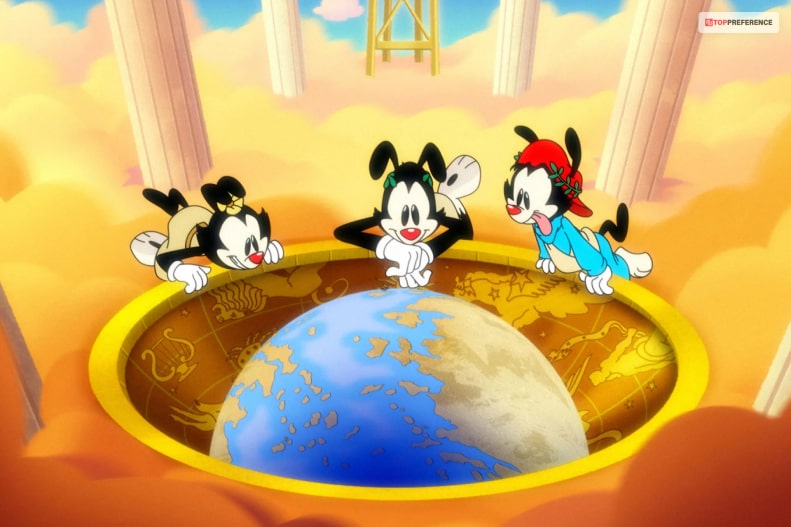 Witty, satirical, culturally relevant, and sometimes irrelevant – Animaniacs is a bundle of fun and excitement mixed up with a bamboozling amount of energy.
As a kid, I was drawn towards the Animaniacs characters due to their larger-than-life personas and bizarre escapades from general relevancy.
Now, as an adult, I feel more excited about the excellent slapstick exchanges of the show or how it throws hilarious parodies at you. But I'll keep my fanboyism subdued for the review.
Instead, let's take a look at what the Animaniacs characters or the cartoon were all about.
In general, Animaniacs is the 90s' collaborative or creative production by WB and the excellent director-producer Steven Spielberg. It's structured like any other variety show, coming with a massive ensemble cast of –
Pinky – a lab mouse (voiced by Rob Paulsen).
Brain – another lab mouse (voiced by Maurice LaMarche).
The Goodfeathers – a pigeon trio, inspired by the great Martin Scorcese.
Slappy – the know-it-all squirrel (voiced by Sherri Stoner), and
Yakko, Dot, and Wakko – the Warner siblings (voiced by Rob Paulsen, Jess Harnell, and Tress MacNeille, respectively).
The aforementioned Animaniacs characters live in the studio lot of Warner Bros. However, due to their adventurous mindset, they tend to run around the whole world while traveling to different phases of time in history. In most cases, they wreck their own cheesy brand of havoc on everyone surrounding them.
Animaniacs Characters – Who Should You Look For?
I don't want to make this article too long. That's why I won't review each and every model or character of the show. However, I will highlight five of the Animaniacs characters I've loved the most since the beginning. So, let's jump right into the discussion.
1: Wakko Warner
As I have said before, I love Wakko amongst the three siblings for some reason. I'm not sure if it's the tingly British accent, his cheerful demeanor, or the funny turtleneck shirt. I mean, it probably could be his favorite catchphrase – Faboo! – too. I don't know. But I guess that's why I fell in love with his enigmatic and equivocal character.
2: Slappy Squirrel
Slappy Squirrel is undeniably the crankiest critter on the planet. And I bet you'll feel the same after you've met the character. Voiced by the humorously talented Sherri Stoner, Slappy used to be Looney Tunes star once upon a time. However, now, she has retired and lives with her brother, Skippy. She's a lunatic, though. Watch the series, and you'll know what I mean.
3: Pinky And Brain
The devious duo, Pinky, and Brain are, to some extent, the stars of the show. Although they're a little more diversified than the usual Animaniacs characters, they set their own pace whilst on a scene. As a cockney-speaking dimwit, Pinky sets the world and more on fire due to her stupidity. But Brain is a genius who's been dreaming of world domination since he was a kid.
4: Yakko Warner
The eldest of the Warner Trio, Yakko is naturally the de facto leader of his tribe. Being true to his name, he is extremely talkative and has an eye for the ladies too. Like any other being, he does have his own insecurities too. However, he's mature enough to hide and overcome them. He's pretty sarcastic as well. But, when it comes to fun, I'll take Wakko over him any day.
5: Heloise Nerz
The 'pretty woman' of the show, Heloise Nerz, serves as the medic (surprise, surprise!) of the studio. Needless to say, she's the object of affection for Wakko and Yakko and an inspiration for the running gag of the place too. Nonetheless, she's not just another pretty face. Heloise is wildly intelligent, has a sense of control, and oozes multi-talentedness through her core.
Should You Watch The Animaniacs?
The Animaniacs characters are sharp-witted, sarcastic, and fun. But, what I like the most about them is how well they connect to both an adult and a child.
As I was saying before, I used to watch the series differently when I was a kid. However, as I am watching the reboot now, I understand the innuendos even more.
However, If I'm being honest, I feel like the new Animaniacs misses the raw depiction of the funny acts of violence it had before. Maybe it's trying to be contemporary; I don't know.
But, as a huge fan of the show, I didn't stomach it well.
When it comes to kids, I'd say that the humor can be a bit risqué. The Animaniacs characters tend to make oblique verbal references to nudity and sex pretty frequently.
Even though they do engage in more child-centric gags right after that, I'd still think twice as a parent before letting my kid watch it. Maybe if it wasn't too raw, I might have allowed it.
However, if you belong to an open-culture family like I used to, I'm pretty sure you and your kid would love the Animaniacs characters together. It's quite fun, after all.
And I'd say the kid-friendliness is more prominent here than in something like Johnny Bravo or Family Guy. Yes, it can be a little too violent at times. But it's funny, and you'll definitely love it when watched in moderation.
Read Also: