Starting up a digital marketing organization can be one of the best business decisions that you can undertake. It might be a little difficult to begin everything from scratch. However, it isn't impossible either. The world's most famous entrepreneurs had to fail several times until they became successful in life. I hope that is going to be motivating enough for you to take your shot. Thailand as a country is one of the most flourishing places for major economic activities. There are numerous small to large-scale businesses. Hence, beginning with a digital marketing start-up is the best thing you can think of doing here. 
How To Build Digital Marketing Start-Up In Thailand
1. Educate Yourself & Hone Your Skills
Before you get started, you can educate yourself and learn as much as you can about digital marketing for agencies. The first stage is to develop the required abilities and self-assurance to run a digital marketing agency. You must have hands-on expertise with various digital marketing methods in order to determine what works well and where you will require assistance. Learning the theory and best practices from experts and putting them into practice is the greatest method to master a skill. Because you want to build an online business rather than work as a freelancer, you'll need to grasp the fundamentals of business management. All of these things will assist you in dealing with the pressure to create high-quality work. 
2. Choose Your Niche
Because the market is so competitive, it's critical to discover your digital marketing expertise if you want to stand out. You can then concentrate on a smaller group of people who are interested in what you have to offer. Since you intend to open a digital marketing agency in Thailand, here are some of the services that other digital marketing firms offer that you should be aware of:
Web design and development

SEO Services

PPC Services (Google Ads, Bing Ads, Facebook Ads, etc.)

Content marketing services (content writing included)

Social media marketing services

Email marketing services

Conversion optimization services
There are various areas of competence that differ from one organization to the next. The revenues that these firms amass are mostly dependent on content marketing and other opportunities. As a result, you must determine and select the niche in which you wish to present your skills. 
3. Plan Your Business Module
A digital marketing agency can be established in a variety of ways. The services you provide and how you bill for your job become increasingly important in determining how efficiently your firm is run over time. One option is to work for an hourly wage. This is useful when you only have one or a few chores to complete. It becomes more difficult as you scale up. A flat retainer is a straightforward pricing structure. This is a one-time payment for the entire month. Just make sure you have guidelines in place for when a client quits or increases their requirements. This ensures that your agency receives the proper reimbursement for your efforts.
4. Do Research On Your Competitors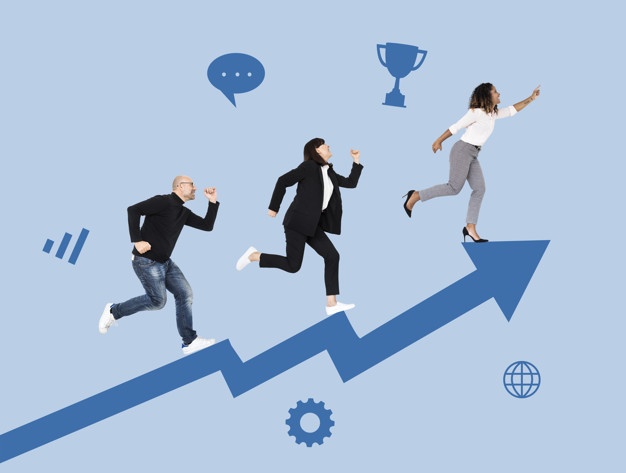 If you're launching a business, you'll want to know how you'll compare to the competition. When you research your competition, you'll be able to see how you can outperform them. To conduct a competitor study, utilize the same terms that your company would use on the internet. Reduce the number of competitors to a bare minimum. Examine how your competitors are making money once you've identified them. Then you can figure out what their methods are and what works for them. After that, you can examine their blog entries, social media, and SEO. Examine how they communicate with their customers to gain a better understanding of how content marketing methods should be implemented.
5. Register Your Business
After you have gone through the basics of the digital marketing industry, gained adequate knowledge, and sorted out everything else, it is time to get your business on paper. To get your organization registered basically means to make it official. For proceeding further, you first need to come up with a suitable name for your company. The name of the company should define what you are into and what your company thrives to achieve. 
6. Establish Web & Social Media Presence
You'll want to be on social media if you're beginning a digital marketing agency. You can create an account on any social networking network, such as Facebook, Instagram, or Twitter, at any time. Once everything is in order, the official website of your Thai start-up company is one of the most important aspects that must be correctly designed. Your website should appear professional and provide potential clients with all of the information they require to decide whether or not to engage your firm. Create distinct landing pages for all of your services, and make it simple for potential clients to contact you without having to answer a lot of questions or fill out long signup forms.
7. Generate Leads
There are various techniques to create leads, but don't be frustrated if building your client base is challenging initially. You should have a target customer in mind before you start producing leads. Starting a Youtube channel is one way to generate leads once you've identified your target consumer. Make sure to upload video content to YouTube on a regular basis to create leads. Case studies, current marketing themes, how-tos, and client testimonials are all good publishing ideas. When it comes to taking on more clients, there is a lot of pressure, and you may find that you may be financially pleased with a particular amount of exceptional clients.
Final Thoughts
Managing your own business has many ups and downs to it, and you'll have to be able to weather the storm to enjoy the benefits. While it can seem overwhelming at first, you need to have a fair idea of how to start and run a digital marketing agency. Eventually, you can even expand your business internationally. Following this guide will give you a fair lot of updated ideas if you want to begin your journey of setting up a digital marketing firm in Thailand. 
Read Also: