Yes, today I am going to discuss Subnautica and also give you the answer: is subnautica multiplayer? This multiplayer game is all about tense survival, wonderful exploration under the ocean, along with creative crafting.
If you plan to play Subnautica with friends, it might be difficult. Here I am to help you out with the exploration of the world with other players.
If you want to play Subnautica multiplayer, here are a few steps you should take first. In this case, it includes many things such as setting up, installing, etc. Apart from that, make sure you have noted that the mod is not as compatible with Subnautica.
Do you know how to get a mod for the PC version of the game? Also, this will not apply to the console version of the Subnautica. In this article, I will share some facts and will let you know is Subnautica multiplayer.  
Read below to continue…
Are You Wondering Now If Subnautica Will Be A Multiplayer Game In 2023?
You already have an idea about Subnautica, which means you can dive deep and explore the underwater adventure with friends. Not only that, but you can also discover several latest water animals and so on. Here I am with the detailed factors about the Subnautica Multiplayer 2023.
Keep reading, don't skip…
Many people have the same question regarding Subnautica: does Subnautica have multiplayer? But did you know that Subnautica doesn't have an official multiplayer function? In this case, developers make a deliberate and bold decision due to the intended atmosphere of discovery, terror, and exploration.
On the other hand, there are many risk factors of a multiplayer game, including the delayed release date, requiring significant time and resources, and so many others. Even developers further reveal that incorporating multiplayer in any game is required for overhaul, making it unable to add any feature in the future.
Sometimes players get bored playing the same interface game and the same appearance characters of the game. At that time, they wait for new features or even the game's updated version.
In case players won't be able to incorporate mods into a multiplayer game, then they won't think further to play the game. But that doesn't mean there isn't any solution to make Subnautica a multiplayer game.
Yes, I know you are wondering: can you play Subnautica with friends?
In this case, you can install one mod called "Nitrox" and one of the best Subnautica mods. You can follow some necessary steps. After that, your wish is fulfilled, which means you can play this game with your friends. Will you be able to clear your doubts about Subnautica multiplayer?
But don't you want to know how to install or even download the Nitrox mod to play Subnautica as a multiplayer game? Yes, you guessed right. You have to visit a website which means the official website of Nitrox. After that, the website provides detailed instructions on how to install the mod and even offers support.
Also, make sure that you are not a console player. This means being a console player, you won't get access to Nitrox mod, a Subnautica multiplayer mod, even from the official website.
In this case, you have to set up the Nitrox server, which allows you to host games for friends, and even they can join the following steps and easily connect with your server by using the IP address you provided.
Now Let's Continue This Article By Discussing The Subnautica Game.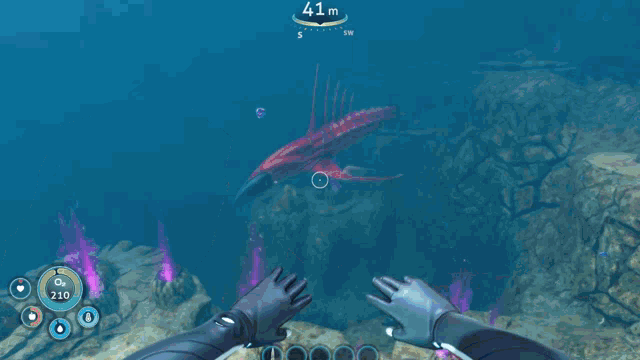 After reading through this part, I hope it clarifies that Subnautica is not a multiplayer game. Now It is time to know about the Subnautica game. Yes, you get right.
It is an interesting game. Read to know about this.
Subnautica is an immersive action and adventure survival game set in the vast open world. Players looking to explore adventure and thrilling challenges can get interested in this.
While you are playing this game from the first-person perspective, you have to take the role of Ryley Robinson, the sole survivor of the crashed spaceship Aurora. After that, he finds himself on a distant oceanic planet known as 4546B, and, surprisingly, it is in the Andromeda Galaxy.
Now it is time to discuss the primary objectives of this game. While entering the Subnautica game, being a player, you have to navigate and explore the ocean's terrible depths. But how would you get success from this? In this case, you have to achieve essential resources and discover several valuable blueprints that allow craft tools, construct bases, etc.
Sometimes it might be dangerous, which means interacting with diverse wildlife. But there also have solutions that mean gameplay takes you underwater, and there you would get two hidden islands. It is an additional experience that is so thrilling and adventurous at the same time.
Let's Discuss The Plot Of This Adventurous Game
While playing Subnautica, you can use virtual reality headsets like HTC Vive, Oculus Rift, and so on. In this case, it enhances the immersive experience and makes you feel that you are in the deep ocean's depth. Below I am going to discuss the Subnautica plot for which you want to know.
The Alterra corporation is making a massive spacecraft known as Aurora. This is the mission of building infrastructure for space travel. Although the crew members are unaware of the additional objective, it is potentially the rescue of the crew member Degasi. It is all about the ship which crashed on the planet at 4546B earlier this decade.
To Summarize
I have discussed Subnautica multiplayer above in this article. Many players think that if a game doesn't contain a multiplayer feature, it means the player will experience poorer. But this is not always applicable.
This single-player game enhances the experience and provides several opportunities to explore ships. On the other hand, while playing Subnautica, a multiplayer game, you have to get the Subnautica bio map which helps you simply navigate the environment.
I hope you enjoy this article,
If you want to learn more, just drop a comment in the comment section below. Thank you for reading till the end.
learn More About: