Do you know why Mon Guerlin is so famous? This perfume is mainly known for its timeless elegance, unparalleled craftsmanship, and sophistication. This brand has been crafting exclusive blossom fragrance perfume for over a century. It is hard to find a woman unfamiliar with Mon Guerlain.
After thorough research, I have uncovered some individual and exceptional characteristics of Mon Guerlain. I would be going to elaborate with you in this article. So stay tuned till the end to know in detail…
Origin Of Mon Guerlain
If you are looking for floral fragrance perfume, you can get this easily at any shop in the U.S. In this case, you should know the origin of this world's most expensive perfume in brief so that you would be fascinated more about this use. Below, I am going to discuss the origin of this perfume.
The actual name of Mon Guerlain perfume is Mon Guerlain Eau de Parfum, which has been a great success since 2017. This aromatic and floral scent is classic and mainly focuses on a gentle, warm lavender perfume note. Aside from that, there are also many notes in this perfume, such as Tahitian Vanilla, Jasmine notes, and powdery Iris, which help keep this fragrance on your skin for a long time.
This perfume is pretty aesthetic in terms of lasting on your skin. After wearing this perfume, the woody aromatic will last within a few hours, and this aromatic fragrance will turn into a Lavender scent, which mixes with Patchouli and Liquorish base notes. In this way, it creates a soft and elegant feminine scent.
If you are confused about what to wear to an office party or any occasion, I recommend you to wear this perfume. It doesn't have any sexy vibes; instead, it just feels like the Aura of the Goddess.
This perfume has so many types of perfume products. But I can't give you every product's detail, but I have researched and found some of them. Here are…
Types Of Mon Guerlain Perfumes
Another of the best types of this perfume is exclusive and rich. Here, I will share the details of Mon Guerlain Sensuelle's perfume.
Mon Guerlain Sensuelle
Mon Guerlain Sensuelle was released just after releasing the original of this perfume. Although now perfumers discontinue this to craft. This also has the same fragrance as the original this perfume. But there is more emphasis on this fragrance of Vanilla and tonkka bean undertones.
Mon Guerlain Eau De Toilette
If you want a lighter and fresher fragrance from Mon Guerlain, then Mon Guerlain Eau de Toilette is one of the best options to wear. The blend of this scent is Vanilla and Lavender, accompanied by citrus notes of Bergamot, Mandarin Orange, and Orange Blossom.
This scent is light and airy, lasting for just an hour.
Mon Guerlain Florale
Another one of the fragrances is Mon Guerlain Floral, which is precisely what it says through your body odor. This perfume takes the original notes from Mon Guerlain Eau de Parfum, and the emphasis on the floral elements is great as a perfume by Clive Christian.
This scent is superb floral, along with white floral notes such as Iris, Jasmine, and a fresh Peony, which are noticeable in these initial minutes. The signature essence representing the feminine group with aristocracy is the blend of Lavender and Vanilla, followed to allow even the stars to showcase.
When it is about lasting power, this perfume has medium lasting power, and I find this quite powdery floral perfume.
Mon Guerlain Bloom Of Rose
If you want to replace Mon Guerlain Toilette perfume, I recommend replacing it with Mon Guerlain Bloom of Rose perfume. This has primarily a citrus fragrance at first; then, after a few seconds, it becomes a fresh rose water scent, which comes slightly from the Lavender rose.
This perfume is a combination of Neroli along with citrus olfactory notes. There is a slight hint of Vanilla in the primary part; Rose and citrus notes have disappeared after that. Then, this scent is like completing its work on your body's skin. However, this perfume has its weak, lasting power.
Mon Guerlain Bloom Of Rose Eau De Parfum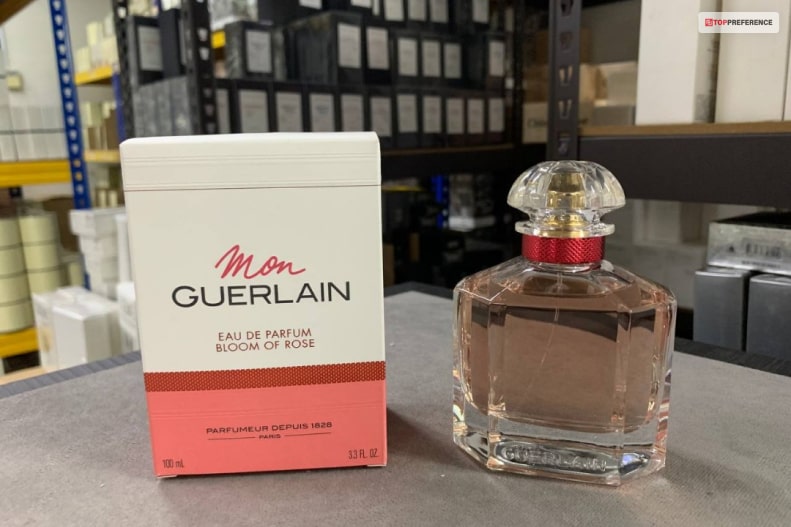 Every perfume lover was pleased when this was first released. Actually, the original Bloom of Rose was a little light.
Instead of many citrus notes, this version has a pear fragrance, which lets you become the dominant note. There is almost an oriental feel of Bulgarian and Turkish rose scents. If you are a rose fragrance lover, then Mon Guerlain Bloom of Rose Eau de Parfum is one of the best options for perfume.
Mon Guerlain Sparkling Bouquet
Do you know how fresh and innocent this perfume is as Louis Vuitton perfume? Well, this perfume is accompanied by many floral peony and Jasmine notes. When this is about a particular Sparkling Bouquet, then you can use this scent where you will find the Pear note, which creates a fruity, fresh top note.
This is an Eau de Toilette perfume because it has lasting power.
Mon Guerlain Intense
Another one of the best types and popular products of this perfumes is Mon Guerlain Intense perfume. This scent is a highly-rated perfume across the entire Mon Guerlain range. The basic notes of this perfume are the Vanilla and Tonka Bean. This combines with a noticeable Liquorice undertone and the patchouli base, lasting many hours.
The Brand Ambassador Of Mon Guerlain
Can you guess who is the brand ambassador of Mon Guerlain? Well, Below I am going to share about this…
Do you know Angelina Jolie has been the face of this scent since the perfumer launched this perfume? I find this perfume has pink branding and floral notes of Mon Guerlain, which is very girly and feminine.
Although this is not the first time that Angelina Jolie has appeared for a perfume product, she has also been used for more aggressive and feisty perfume brands that feel audiences want to purchase immediately.
In Conclusion
I have discussed Mon Guerlain perfume above in this article. Do you know why this perfume is one of the most popular fragrances, especially among feminine groups? Well, the olfactory notes of every perfume are superb, rich, and vibrant. This doesn't mean they are strong, but the light and airy fragrances are lasting and fascinating.
On the other hand, girls mainly wear this perfume on any occasion, event, or else at office parties. So what are you thinking about this perfume? Are you interested in buying this? Or are you looking for something else?
Let me know in the comment section. I will get back to you soon. Thank you for reading till the end.
Read On To Know More: