Long associated with political drawings, slogans, war scenes, and more, graffiti came into the realm of art during the 1970s and 1980s. Graffiti art basically refers to designs or images painted in a public place for expressing happiness, sending a message to the public, or for entertainment.
In many countries, graffiti art in public places is illegal. But, it doesn't mean that you cannot use the graffiti prints on the wall of your rooms. In addition to the passing message, graffiti is also very popular for its vibrant colors and bold font.
Learn more about graffiti wall art!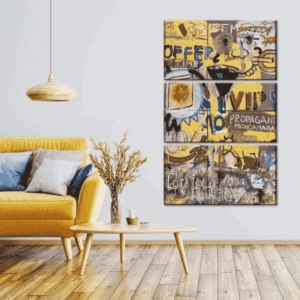 If you strongly believe in some political views or want to share your thoughts about a political party, you can take the help of graffiti art. Hang a graffiti print that showcases your thoughts on the wall of the living room. It will not only tell people about your political views but will also add bold colors to your space.
Use graffiti to add elements of hip hop in the room:
If you love hip-hop music or dance, then showcase your interest in your home décor. Use graffiti wall art with dancing to decorate the large blank wall in your home. The bold colors and dance moves in this art will look great in the living area and will amp up your interior in no time.
Graffiti is meant to impress other artists:
The artists who create street graffiti art on canvas aim for visibility to impress others within their community and outside their community. Canvas prints of graffiti art look great on every room wall, be it a kitchen, living area, or bedroom. The best part is that these prints easily mix with every home style and complement the light shades present in the room.
Also, adding a graffiti canvas print will increase the beauty of space and will amaze your guests about your taste and style.
Use graffiti as a focal point:
Bring street art into your home, and use graffiti as a focal point in your living area or bedroom. You can hang large wall art on a large blank wall to create a focal point. This one wall will change the overall look of your space and will refresh it in no time.
Further, adding graffiti art in the room can give your space a modern look which is in trend these days.
Graffiti as a wall decoration in the dining room:
When decorating your home with graffiti wall art, do not forget the dining area. You can add vibrant colors and styles to this space by adding a unique piece of graffiti art. Choose the trending patterns and designs to update your dining area in style.
Final words:
We hope that from the above article you have gained knowledge about graffiti wall art. Also, you have learned the ways to decorate your home with this amazing street graffiti wall art canvas or prints.
Read Also: