This article is for you if you want to be at the top of your game while managing customer relationships and sales. In this article, we have provided information about the Pipeline CRM software, which helps control your sales data and customers' information.
Keep reading this article to learn more about this software.
What Is CRM Pipeline?
CRM Pipeline visually represents a company or organization's organization's sales cycle. That helps them logically organize their prospects and speculate revenue based on the data collected through past behaviors in sales.
These past behaviors include factors like the average length of the company'scompany's sales cycle, or average value of their contract or conversion rate, and many other factors based on past sales of the particular company. By understanding the data, a company can predict the number of leads needed to achieve its sales quota.
Pipeline CRM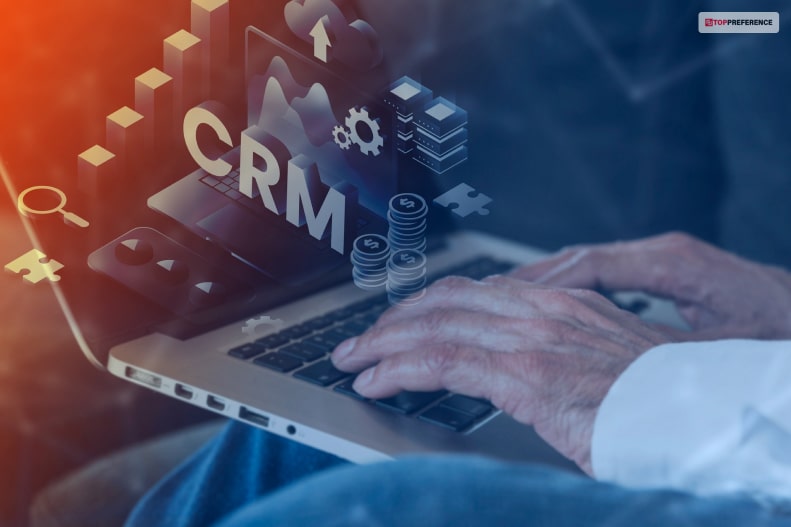 Pipeline CRM is a sales pipeline management tool companies use to automate their sales process. The CRM pipeline tool helps them predict revenue based on their past sales behaviors to strategize their plans for new campaigns to increase sales and predict an amount for these campaigns.
This leads to an increase in revenue for the company, along with helping them stay on top of new deals. This software helps combine calls, chats, sales, and marketing information in an AI-powered solution that allows companies to stay organized with different divisions' information in a single place.
Companies can also access customer data from various sectors to strategize plans for new campaigns or solve customer problems.
Features Of Pipeline CRM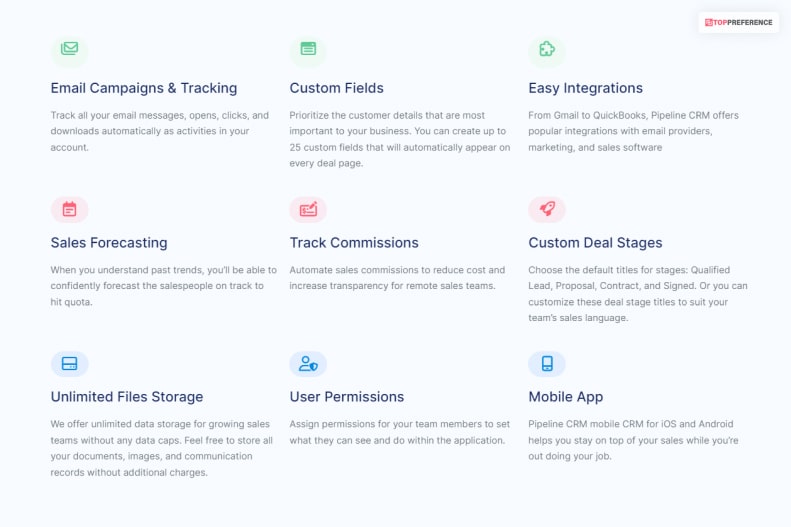 Pipeline CRM provides numerous features to help companies automate their sales process. This allows a company's sales team to focus on their most important task predicting the number of leads needed to achieve their sales goal.
Features provided by Pipeline CRM are:
Email Campaigns And Tracking
Through this software, companies can track email messages and download them automatically. This software also tracks campaign clicks and open status and organizes the data for the sales team to analyze. This helps predict the leads for the sales team.
Custom Fields
Any company can survive with a good customer base for its services and products. Hence, customer details become crucial data for companies or organizations. This software helps companies create up to 25 custom fields which will appear automatically on the deal page.
Easy Integrations
Pipeline CMR provides easy integrations with sales software, marketing, and email providers. This simplifies the process for the companies.
Sales Forecasting
With a proper understanding of past trends in sales, a company can confidently forecast a target leads to the sales team to hit the company's quota.
Track Commissions
This software helps track commissions for sales teams, even those working remotely. This increases transparency in the company and reduces the company's costs.
Custom Deal Stages
Companies can customize stages of deals by naming them Proposal, Contract, Qualified Lead, and Signed. Or Companies can modify the stage names based on their team's sales language.  
Unlimited Files Storage
CRM Pipelines offers unlimited file storage for a companies growing sales team where they can store numerous data. Data includes images, communication records, and other documents without extra charges. This data helps better pipeline deals for the companies.
User Permissions
Companies can also assign team members specific permissions to access different data to view and work with when working on company deals.
Mobile App
Pipeline CRM also has mobile CRM that is both Android and iOS-friendly, so anyone can access its data, even with smartphones.
Benefits Of Pipeline CRM
Why should you opt for CRM Pipeline with many other CRM software available in the market?
Firstly, they provide a free 14 days trial to new users, which companies can avail to check out this service and decide on its suitability for their organization. They can see its benefits themselves to decide on this software.
Secondly, the software is easy to use, and anybody can adopt its interface, built simply considering all types of users.
Thirdly, it has a familiar format like other CRM software but with the powerful features listed above. The list view makes managing sales and tracking deals easier for the sales team. CRM Pipeline shows the progress results of pipeline deals with a couple of clicks.
Fourthly, it helps sort, share, and filter important data by customizing its accessibility for different teams in a company.
Lastly, this software offers visibility of what changed a company's-company's sales pipeline over time to track sales progress.
Pipeline CRM Review
Here are some reviews by users who used CRM Pipeline:
1. Deborah D., a verified user of this software, says, "Great Way to Stay On Track." She further states the following:
What do you like best about Pipeline CRM?
The tasks I can set remind me of important events that are to take place or remind me of my list of to do's.
What do you dislike about Pipeline CRM?
Sometimes I manage to get duplicate accounts or copies of accounts in the system and I am not sure how I manage to do that. If I was able to understand how I am creating duplicates I could eliminate the problem.
What problems is Pipeline CRM solving and how is that benefiting you?
Actually, it helps me remember to follow up on quotes and close more sales. It is helpful to follow up on customers who have purchased but have been silent for awhile.
2. Justin J. another verified user of the software says, "Exceeds expectations!" He further states the following:
What do you like best about Pipeline CRM?
User-friendly interface with unlimited filters for managing a unique sales pipeline.
What do you dislike about Pipeline CRM?
Would be nice if it had an integrated AMS system to complement this excellent product.
What problems is Pipeline CRM solving and how is that benefiting you?
Pipeline CRM has excellent support and always resolve any issues that me or my team have.
3. Jason B. current user of the software says, "Overall it has helped me to stay organized and focused." He further mentions the following:
What do you like best about Pipeline CRM?
The layout of the pages in both the people and the deal sections of the software and their compatibility in working in and out of our client information seamlessly. Review collected by and hosted on G2.com.
What do you dislike about Pipeline CRM?
It is not as flexible as I would like in relation to running any kind of specific report on certain topics. I wish this was more flexible or even had it's own page passed on entering the parameters I would like to look at. Review collected by and hosted on G2.com.
What problems is Pipeline CRM solving and how is that benefiting you?
Organization, database, sales tracking, reports, goals.
Conclusion
We hope this article provided valuable information about Pipeline CRM so you can try this software to better company sales and manage valuable customer data. This software makes it easier for the sales team to be on track toward and achieve their goals.
Learn More About: