Many who grew up in the 1990s considered themselves the luckiest individuals on the planet. They had seen the world's best, especially when the entertainment industry was revamping itself. Who can forget the Saturday morning, waking up from sleep, grabbing the bowl of cereal, and getting comfortable on the couch to watch 90s cartoons all day?
Yes, that's how most 90s kids used to start their Saturday morning.
When we talk about cartoons, there are many names that come into our minds almost instantly. For instance, Tom & Jerry, The Ren & Stimpy Show, Dexter's Laboratory, Rugrat, and much more.
Did you notice that all the examples you thought were part of famous 90s cartoons? This is because the 90s is considered the golden era for the cartoon industry. As a result, the shows that are still remembered among people are mostly from the 90s.
In fact, many older audiences used to watch the shows. This is because 90s cartoons were great for younger audiences and had enough jokes and humor to keep older audiences engaged.
If you are bit by the nostalgic bug and want to enjoy those shows again, you are at the right place. Here we have listed down the famous 90s cartoons that will make you a child again.
1. Rugrats
Rugrats, those who haven't seen this show. It is one of the best shows that Nick has ever made. Children love this 90s cartoon because of its bright colors. The amazing storyline, setting, and different characters make this show one of the best 90s nickelodeon cartoons.
2. Animaniacs
If there was a 90s cartoon that was more focused on humor, the first show that would come to mind is Animaniacs. The wacky adult-centric humor was what won the hearts of fans. The series had a short run with only 99 episodes but was enough to make a name for itself among the top 90s cartoons.
3. Ducktales
Admit it! You are already humming the theme song of this cartoon. The show was a collection of Disney's favorite ducks who shared their adventures with us. It is one of the old Cartoon Network shows that still hit differently. The show had great plots, stories, and mysteries to solve that kept audiences interested in every episode.
4. Doug
Doug is one of the few shows that, along with Rugrats, defined the golden era of 90s cartoons. You can say that Doug was a 90s version of Charlie Brown. The title character is portrayed in such a way that the characteristics match Charles Schulz. However, he did end up with the girl of his dreams.
5. Tiny Toon Adventures
Do Loony Tunes ring any bell? Yes, the same looney tunes where you had bugs bunny and other famous characters. Tiny Toons was the new generation of the Looney Tunes starring new characters like Plucky Duck, Hampton J. Pig, Babs Bunny, and Fifi La Fume, who attended the Looniversity.
6. Hey Arnold
'Hey Arnold' is one of those hidden gems that most people hardly know about. But, once you start seeing the show, you realize what gem you were missing out on. So, if you want to watch something different and unique compared to other 90s cartoons, this 90s cartoon has everything you want.
7. Dexter's Laboratory
No 90s kid will ever say that they have never watched Dexter's Laboratory. Whoever has watched this show claims it to be on their top list. The show is about a boy who has his own laboratory and invented several machines. His life would have been without any problem if only her sister was not there. With such memorable characters and an excellent plot, you will certainly like the show.
8. Pinky And The Brain
One has to really feel bad for Brain, who was never able to fulfill his dream of taking over the world. Pinky and the Brain is a show of two mice – one smart and another silly. The theme song is something that is still stuck in my mind for many people. It is a good show with humor that will make you enjoy it.
9. Recess
Recess was a favorite show for many school-going kids in the mid-90s. The show's story revolves around the cosmic adventure of school kids during their recess time. Recess is a show produced by Disney and aired on their home cable network.
10. The Wild Thornberrys
This 90s cartoon has everything going on. With a nomadic family that documents their adventure, it is one of the best wildlife television shows for your children. The show's center of attention is the daughter of the Thornberry family Eliza and her secret gift of being able to communicate with animals.
11. Darkwing Duck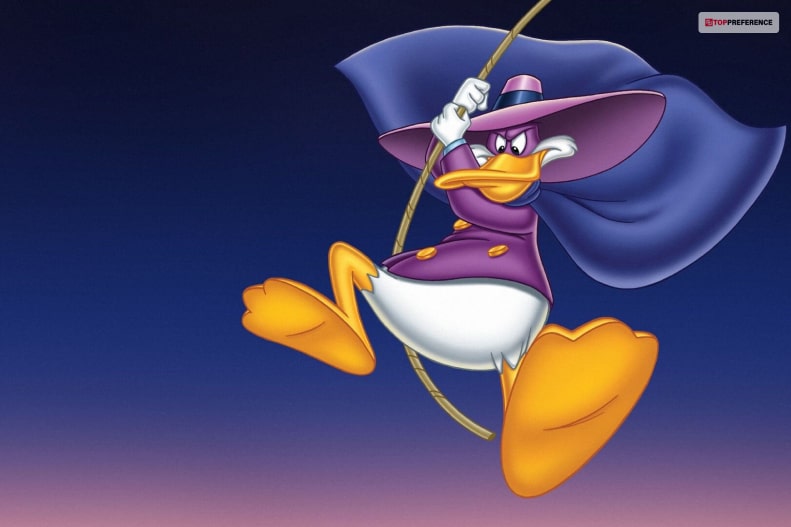 It is impossible not to like this. People who watched this show as a child still watch it as adults. This popular 90s cartoon show was all about an underrated superhero, Darkwing Duck, who was living a double life (just like Batman). The show is full of adventures with interesting plots.
12. Powerpuff Girls
Remember the times when those kindergartners saved the world? If not, then you are not a fan of Powerpuff girls. Blossom, Bubbles, and Buttercup, these three small girls, have saved the world multiple times. It is a classic from the 90s cartoon that you must watch.
13. Captain Planet
Earth…Fire…Wind…Water…Earth…!
By your power combined, I am Captain Planet.
This is one of the popular phrases among children back in the 90s. The show has a good message when it talks about reducing pollution and other things that affect planet Earth. In addition, Captain Planet also helps the Earth to take care of the bad guys that are creating problems.
14. Teenage Mutant Ninja Turtles
Who would have thought that turtles could be so cool? Well, Teenage Mutant Ninja Turtles have certainly proven that. You have probably seen many remakes of this popular classic 90s cartoons, but this is where everything started.
15. Goof Troop
Goof Troops is not a cartoon that was designed to teach anything. Its sole purpose was entertaining the viewers. With Goofy as father and his son Max, they both always find themselves in a position where they compare each other's maturity and knowledge. Although Goofy always proves to have more wisdom or luck on his side.
16. Sailor Moon
Sailor moon is one of the 90s cartoons that were most popular among female audiences. The show is all about friends coming together to save the world while looking super cute in their bright costumes. This show has a massive fan base. If you look into people's houses, you will certainly find accessories related to sailor moon shows.
17. Talespin
Talespin is a hybrid story that can be considered a sequel to The Jungle Book, Baloo, Sher Khan, and King Louie. In the Talespin, all the characters from this famous story get along and operate a business in Cape Suzette. While Mowgli is not there, there is certainly a 12-year-old boy that works as a navigator.
18. Taz Mania
Taz Mania was the key player in the liberation of television animation. It made its debut in 1991 and became an instant hit. You would be surprised to know that Tiny Toon Adventures developed Taz Mania. Over the extension of four seasons and more than 65 episodes, it was able to make its name among the top 90s cartoons.
19. Courage The Cowardly Dog
Courage, the cowardly dog, might be a comedy show for adults, but it is a true horror show for children. It manages the audiences to keep at the edge. The show centers around a family with a dog that is cowardly and brave at the same time. If you want to watch something fun, Courage is among the few that need to be on your list.
20. Swat Kats
Swat cats were all about action. Everything about swat Kats was poised to be hit. Unfortunately, the show comes in a dark style with a radical-looking protagonist. They had the potential to become a big hit, but it wasn't able to find the right footing. Despite this fact, children disliked the show and used it to mimic the action scenes.
Read Also About:
Who Is Nezuko Kamado? How Old Is Nezuko Kamado?