"Never Underestimate The Importance Of Having Fun!"- Randy Pausch
Human beings have forever been crazy about fun and entertainment. Now, the factors of entertainment vary from one person to another. While some find sports entertaining, the others seek an amusement park.
Well, if you fall in the latter group, this article is for you. Here, you can check out the places where you can visit in the US to enjoy the best theme park. So, take a look at this list and plan your next weekend trip.
Best Places To Visit In the USA To Get Amusement Park Experience- List 2022
The United States is full of amusement parks. You can even get an indoor amusement park here. Nevertheless, this list contains some of the best ones according to the places. Take a look:
1. Pigeon Forge, Tennesse- Dollywood
The Pigeon Forge city in Tennesse homes the  Dollywood Amusement Park. It is one of the top-notch parks in the US. You can visit here to enjoy the views of the Great Smoky Mountains and the thrill rides.
Like the Bay Beach amusement park, you can get musical attractions here too. Furthermore, you can enjoy some outstanding local dishes here.
2. Los Angeles, California- Universal Studios Hollywood
California is no doubt one of the amazing cities in the US, and you can visit there to enjoy the Hollywood Park. Well, if you are not into rides like Rockin Jump, you can visit here without a second thought.
Expect to have a good time exploring the film sets and studios in Hollywood. You can also choose a good cafe and have some excellent food.
3. Orlando, Florida- Magic Kindom Park
Florida is popularly known as 'The Sunshine State,'  and it is yet another place where you can visit to enjoy an amusement park. However, you must check what to wear to an amusement park in summer before heading toward Florida.
The Magic Kingdom Park is a family-friendly place, and you can witness the Disney characters here. Moreover, you would be amazed to know that the park has got the title of 'Most Visited Theme Park' in 2019.
4. Anaheim, California-  Disney California Adventure Park
Anaheim city in California is a place that you should not miss if you want to enjoy a day at a US amusement park. The simplest thing you can do is head to the Disney California Amusement Park. It is really one of the best amusement parks in the world.
If you visit this park anytime soon, you should not forget to witness the Avengers Campus. On the other hand, you can always go for some daunting rides like the roller coaster. Overall, you can expect to get back from the park with a lot of fondling memories.
5. Branson, Missouri-  Silver Dollar City
Are you looking for a place in the US where you can enjoy in a classic manner? Well, in that case, you can visit Branson in Missouri. This city homes the Silver Doller City, and it contains some classic amusement park rides.
Apart from this, you can enjoy the live music shows and the demonstrations by craftspeople. Yet another thing you can expect is getting a view of the Ozark Mountains,
So, as you reach up to the Silver Dollar City, do not forget to take your camera. You can take some outstanding snaps if you are on a family or a friend's trip.
6. Rochester, New York-  Seabreeze Amusement Park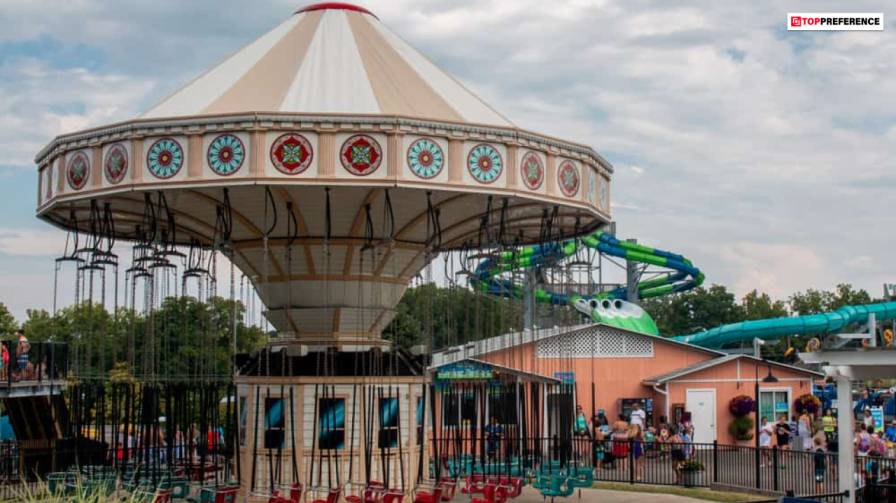 As it is known to all, New York is one of the major happening cities in the United States. Now, if you desire to spend a day in an Amusement Park here, you can visit Rochester city. Expect the Sea Breeze Amusement Park to welcome you with all its grace.
The best you can do is set out for this park with your children. The park is full of kid-friendly rides. Moreover, you can expect to have a picnic at this place.
While you might not get many adult rides in this park, there is always a chance you can have fun in the water. So, it is clear that you can visit here during the summer. 
7. Jefferson, New Hampshire-  Santa's Village
From summer to winter, we have everything on our list! If you are crazy about amusement parks and aim to spend a winter day and evening there, Jefferson city is where you need to be.
The Santa's Village amusement park is located here, and you can enjoy being a neighbor to Santa Clause. You are for sure expecting that your children would love it.
So, leave the thought about the teen who fell from the amusement park ride and set out for Santa's village now.
8. Tampa, Florida- Busch Gardens Tampa Bay
The Tampa Bay area is nothing less than an amusement park in itself. However, you can still be there and visit the Busch Gardens Tampa Bay. This is a picturesque amusement park where you can get a lot of daunting rides. The best you can do is visit this place with your friends on a road trip.
Frequently Asked Questions (FAQs)
Final Words
Like children, the adults also love visiting amusement parks. You can get the best from a park only if it has the type of rides that you love. So, you can check this list and choose the right park for yourself.
Again, if you are going with your family or friends, consider their preferences while making a plan for the holiday'.
Also Read: